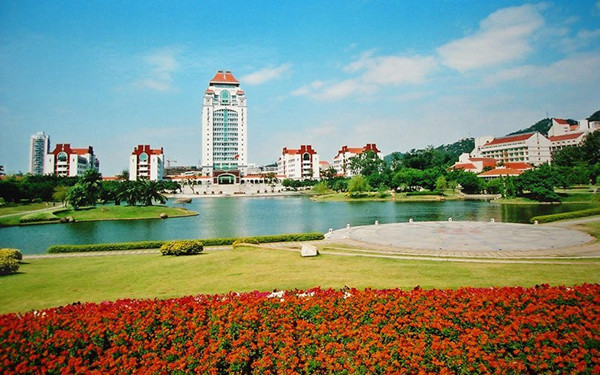 厦门大学(Xiamen University),简称厦大(XMU),由著名爱国华侨领袖陈嘉庚先生于1921年创办, 是中国近代教育史上第一所华侨创办的大学。 在建校100周年之际,中共中央总书记、国家主席、中央军委主席习近平向学校发来贺信。贺信指出,厦门大学是一所具有光荣传统的大学。100年来,学校秉持爱国华侨领袖陈嘉庚先生的立校志向,形成了"爱国、革命、自强、科学"的优良校风,打造了鲜明的办学特色,培养了大批优秀人才,为国家富强、人民幸福和中华文化海外传播作出了积极贡献。
学校建有思明校区、漳州校区、翔安校区和马来西亚分校,设有研究生院、6个学部以及34个学院(直属系、直属中心)和17个研究院,形成了覆盖哲学、经济学、法学、教育学、文学、历史学、理学、工学、医学、管理学、艺术学、交叉学科12个学科门类的学科体系。设有32个博士后流动站。2022年,学校入选国家公布的第二轮"双一流"建设高校名单,化学、生物学、海洋科学、生态学、统计学、教育学共6个学科入选第二轮"双一流"建设学科名单。
Xiamen University (XMU), established in 1921 by renowned patriotic overseas Chinese leader Mr. Tan Kah Kee, is the first university founded by an overseas Chinese in the history of modern Chinese education. XMU has long been listed among China's leading universities on the national 211 Project, 985 Project and Double First-Class Initiative, which have been launched by the Chinese government to support selected universities in achieving world-class standing.
With a graduate school, six academic divisions consisting of 33 schools and colleges, and 16 research institutes, XMU boasts a total enrollment of nearly 44,000 full-time students with over 20,000 undergraduates, 18,000 graduate students toward a master's degree and 5,000 doctoral candidates. XMU currently has a faculty of over 3,000 full-time teachers and researchers, of whom 32 are the members of the Chinese Academy of Sciences or of the Chinese Academy of Engineering.
Fraud Alert!
Conference staff will NOT call to ask you pay via phone for registration/lodging/air ticket etc. Please ignore any calls/emails that ask you to pay. If you received any suspicious emails or phone calls send/call from non-official contact, please write to let us know.